Membrane Keypads are a long established and versatile interface option which are used in a range of applications and environments.
At MKC we often hear stories from engineers and purchasers who have had not so great experiences in the past. Fast forward to 2017 and whilst the concept of a Membrane Keyboard remains the same, there has been many innovations which make Membrane Keypads a reliable interface solution. Why do you need a Membrane Keypad?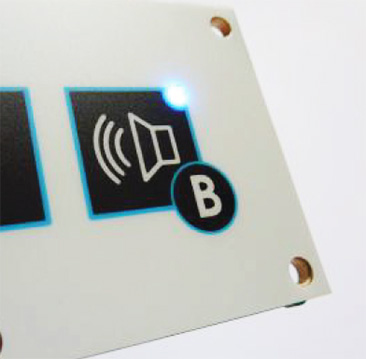 Graphic Overlays
Polyester is now the leading substrate for manufacturing graphic overlays for Membrane Keyboards. Traditional screen printing is still the industry wide method, however, digital four colour process printing also allows us to produce attractive dynamic designs.
Leading polyester manufacturers such as Autotype offer a range of materials with embedded traits such as UV resistance, variable temperature resistance & anti glare which allows us to provide value added materials to suit each customers individual product requirement.  MKC manufactured products currently operate anywhere from 30,000ft in the air for our Aviation customers to remote Siberia for our Weather monitoring customers.
MKC can also provide embossing with a range of styles (dome, rim ,pillow, perimiter, de-emboss,braille or combination) in various heights and diameters.
Polycarbonate is still very much used and is especially popular in Fire, Security and Military applications where FR and UL ratings are required.
Adhesives
Gone are the days where one adhesive fits all. MKC sources a range of adhesives of various thicknesses and adhesion ratings to ensure when a Membrane Keypad is fitted it cannot be removed. Adhesive systems can be defined to ensure keypads fitted to High Surface Energy Surfaces (HSE) like Steel or ABS plastic or Low Surface Energy Surfaces (LSE) are fit for purpose. Likewise, MKC can also build in adhesives in black out materials which are ideal for reducing light leakage.
Adhesives can also be used to define switch response especially in non-tactile Membrane Keyboards.
Tactility
Tactile domes are now available in of sizes from 5mm diameter up to 18mm diameter with op'forces from 180grm to 600grms. Leading dome manufacturers now have little or no MOQs for standard parts meaning MKC can design in a specific dome to suit the specific needs of each product.
Embedded Components
MKC can embed components such as LEDs and sensors in a range of sizes from 1206 packages on standard Polyester circuits to machine placed parts onto rigid PCBs. Read below to see the advances in Membrane circuitry.
Circuitry
PET (Polyester) circuits for generic designs but which can now accommodate embedded LEDs, components and can be produced in a range of track pitches which can terminate in 2,54mm headers or ZIF style plug and play flexi tails.
Kapton Flexi Style (FPC) circuits for more complex layouts and small designs which eliminates the risk of track shortages and field failiure. Like PET, FPC can also accommodate embedded LEDs, components and be produced on ZIF style flexi tails or with 2,54mm pitch headers.
PCBA circuitry combines traditional membrane keypad switching with a rigid FR4 PCB. This circuitry method offers both conventional (CNV) and surface mount (SMT) electronic assembly along with mechanical fixtures and fittings for OLED or LCD displays, pillars, posts and connectors. PCBA also negates the need for panelwork as the as PCB creates a rigid supporting plate. PCBA is an increasingly popular range for MKC as we remove multiple suppliers and cost branches into a single source and cost unit for our customers.
Reliability
Our Sales Team have a combined experience of 75 years in the Membrane Keypad industry and we will work with you to ensure your Keyboard is designed to suit your application. We are an ISO9001 accredited company who manufacture in the UK and also have supply partnerships in Taiwan and China. No matter if your product is produced in the UK or Offshore every project we undertake goes through Design and Sample approval before moving to volume. Every element of the manufacturing process from Purchasing/BOM control through to assembly and test is signed off not only during the introduction stage but for repeat orders too. For over 20 years our reputation has been built on quality, service and competitiveness.
Our website if full of useful information and our Case Study section will give you an idea of how MKC can improve your product.
Why not discuss your project requirements with one of our Sales Team on +44(0)1329 281 091 or e-mail sales@membrane-keyboards.com